Teeth Cleaning Chanhassen, MN

Professional Teeth Cleaning
At Bluff Creek Dental, we take pride in helping our patients keep their teeth and smiles looking healthy, white, and beautiful. Our dentists and expert team of highly trained dental hygienists work hard to make patients feel at home every time they come into our Chanhassen office, and we strive to take a holistic approach to every patient's oral health. One of the most critical parts of maintaining a beautiful smile is a strong dental hygiene routine, and that means more than just brushing and flossing; it means having regular professional teeth cleanings.
In-Office Chanhassen Teeth Cleanings
Even for people who brush and floss regularly, keeping up a healthy smile requires more than just at-home care. Professional teeth cleanings are a vital part of every oral hygiene regimen, and when you come in for one at our Chanhassen office you'll leave with teeth that feel squeaky-clean and look brighter too. But teeth cleanings are about more than just looks and feel.
Over time teeth tend to build up a layer of plaque, which is a sticky, bacteria-rich film over the surface of the teeth. Teeth can also develop tartar (also called calculus), a form of hard deposit on the teeth that's almost impossible to remove without special tools. These deposits grow and multiply and the bacteria within them secrete acids that eat away at the enamel of your teeth. If left untreated, these acids can cause tooth decay, cavities, and gum disease, potentially even leading to greater, whole-body health problems.
Thankfully, regular teeth cleanings can help. This preventive treatment removes the deposits of plaque and tartar, stopping decay in its tracks and leaving your teeth utterly clean.
The Teeth Cleaning Process
When you come in for a teeth cleaning with our Chanhassen dentist, you'll sit down with one of our dental hygienists. A dental hygienist is someone trained with a special set of tools specifically designed to keep your teeth free of plaque and tartar. Every patient is different and your cleaning will be tailored to fit your unique needs. However, most teeth cleanings follow this general format:
First, your dental hygienist will perform a comprehensive oral examination to look for any health problems related to your teeth or oral tissues.
Next, they'll use a specialized tool to "scale" your teeth and remove plaque and tartar.
Finally, your dental hygienist will polish your teeth with a low-speed rotary brush. We'll use a specialized toothpaste-like gel that has a slightly gritty texture, helping to buff off any stains or remaining plaque.
Once we're finished, your teeth will be smooth, shiny, and completely clean!
Do Teeth Cleanings Hurt?
Most patients report little to no discomfort during teeth cleanings, and some even say they enjoy the process—particularly the results! If you haven't had a teeth cleaning in a while it may take a short period to adjust to the process. And if your gums are irritated from bacterial buildup, they may get sore or bleed slightly during the cleaning. However, you can prevent this with strong, regular oral hygiene routines at home. In the event that you do experience discomfort, though, we can apply a topical numbing gel or other anesthetic to help you relax during the procedure.
Contact Your Chanhassen, MN Dentist
Professional teeth cleanings are a critical part of any oral hygiene regimen, and if you think it's time for one of your own, we're here to help. You can use our appointment request form to schedule your next appointment online right now, or feel free to call us at 952-679-636. If you'd like to learn more about dental hygiene or our Chanhassen practice, feel free to read up on our office and the services we offer. And remember, with strong oral hygiene and regular professional cleanings, you can keep your teeth healthy and strong throughout your life.
Related Article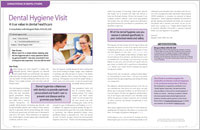 Dental Hygiene Visit There's a lot more going on at your regular dental hygiene visit than a feel-good polishing! Dental hygienists collaborate with dentists to provide optimum personalized oral health care to prevent oral disease and to promote your health... Read Article
Dental Cleanings Using Ultrasonic Scalers Rapidly changing technology has revolutionized periodontal therapy with the integration of power scaling techniques resulting in improved clinical outcomes, patient comfort, and reduced time and physical demands on clinicians... Read Article